How to handle payments on Armslist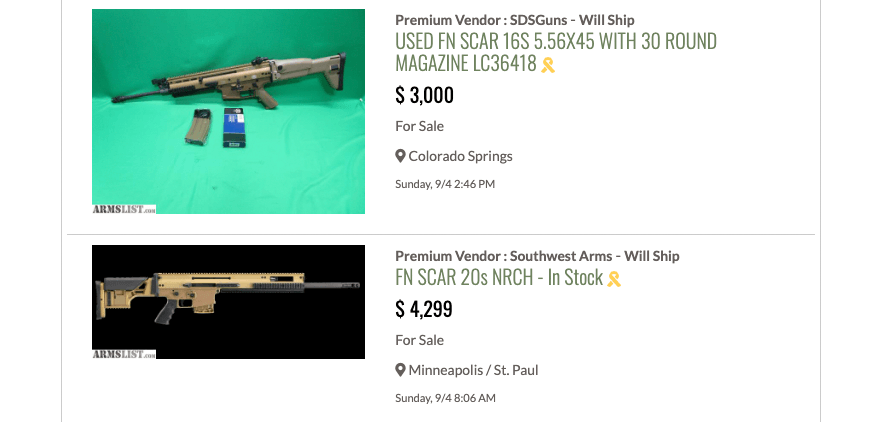 Armslist is the largest website dedicated to gun-related classified ads. It supports both in-person and shipped transactions. It is popular for having some incredible deals on guns. It is also notorious for having an abnormally high level of scammers. The scammers run rampant because Armslist leaves the payment entirely up to users. Many users aren't aware there is only one safe way to pay.
Is Armslist involved in transactions?
No, Armslist only helps buyers and sellers find each other. It doesn't participate in transactions in any way. The Armslist FAQ clearly states:
ARMSLIST is purely a service provider that allows sellers to list items. As such, ARMSLIST can not and will not be a party in transactions. It is the sole responsibility of the buyer and seller to conduct safe and legal transactions. ... we do not handle payments, guarantee transactions, provide escrow services, or offer "buyer protection" or "seller certification"
In short, Armslist leaves the whole transaction up to you. You must figure out the payment, the FFL, the shipping/dropoff/pickup, etc. That opens you up to some risk of scams.
Do people get scammed on Armslist?
Unfortunately people get scammed on Armslist all the time. It is actually seems to be one of the largest sources of gun scams online. Here are just a few reported examples:
Will Armslist help if I get scammed?
No, Armslist will not help if you get scammed. It does not offer buyer protection. It can't even provide information about a user that you report as a scammer. It says: "ARMSLIST can only provide information to law enforcement during due process of law." You need to make sure you have some other protection.
How can I handle payments without getting scammed?
Historically, Armslist users would either meet someone in person and pay cash, or request shipment after paying by money order or personal check. Frankly none of these options are good. Do you want to be the person showing up with a pocket full of cash to meet a total stranger with a gun? Or the person mailing payment to a total stranger and praying they don't scam you?
There is only one safe way to pay for gun-related items online. It's called GunTab. It's similar to PayPal because it allows anyone to pay securely by credit card or bank account. But GunTab is better because it protects you from scams and includes step-by-step guidance for guns, ammo, NFA items, and more. Also, it's better because it's firearm-friendly. PayPal/Venmo/Zelle/etc will seize your account after detecting a gun-related transaction. There's no contest. GunTab is your best option for handling payment on Armslist.
Conclusion
Armlist says, "beyond our efforts to prevent scammers there is little we can do." That isn't entirely true. It could suggest using GunTab. Not everybody will, but those who do are fully protected against scammers. If you're interested, you should try it now.